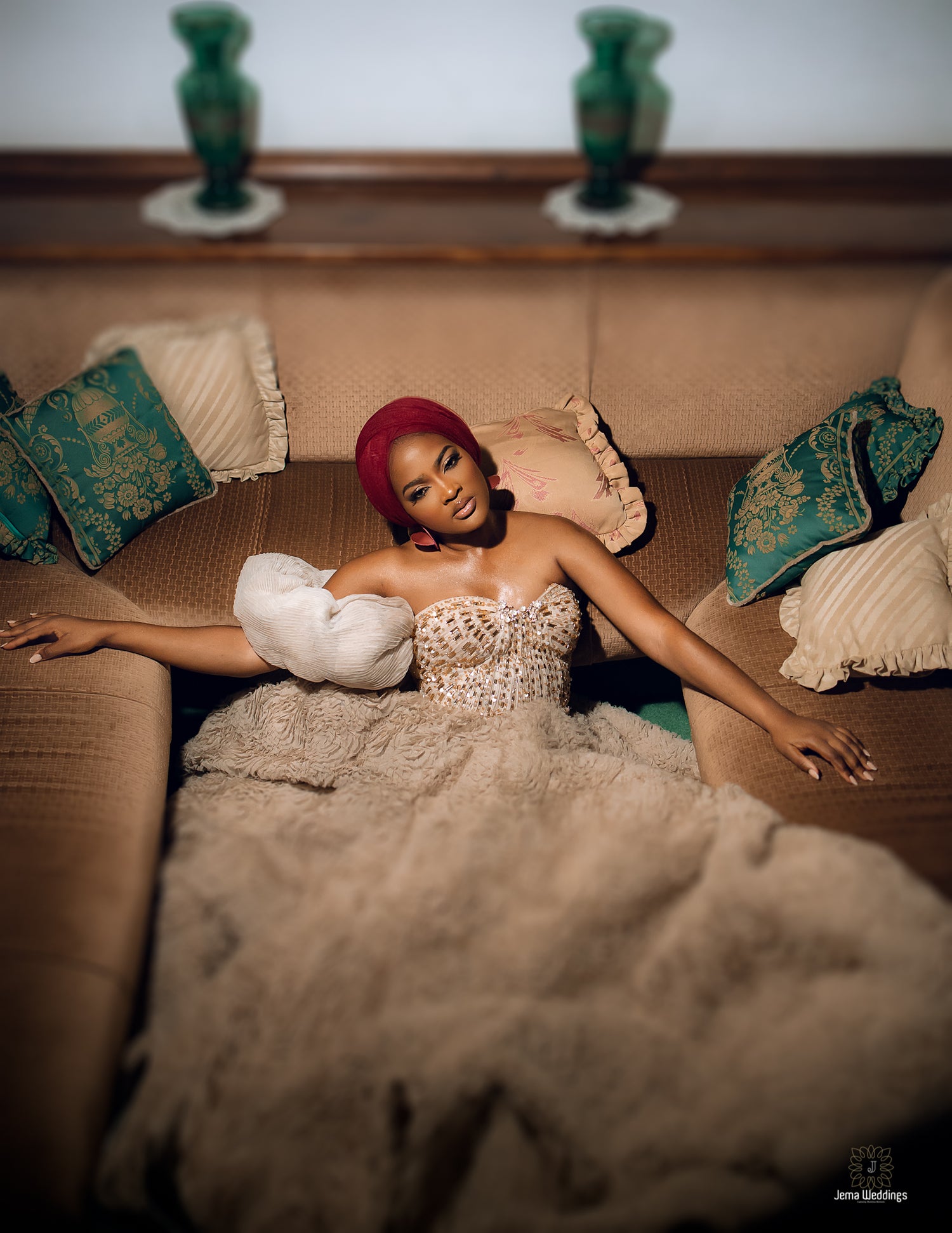 Who Are We?
Sadia Sanusi designs is your ultimate destination to get access to a wider selection of luxury garments. Our talented team of local artisans specializes in bridal wear, using traditional and contemporary fabrics and designs to redefine the personality of the modern woman. 
 We are committed to reinventing the wedding shopping experience. From stunning wedding gowns, Evening gowns, Bridal Robes, and Bridesmaid Dresses to Traditional Kente, we offer a full assortment of beautiful women's clothing.
 We firmly believe that there is a perfect ensemble for every body type and occasion. Our collection comprises a series of embellished pieces with intricate detailing to create styles that are timeless and represent the best in value. We pursue excellence in craftsmanship to create wedding or evening gowns worthy of the bride's most treasured moments. 
 Our soft & flowy bridal robes feature minimal adornment and are crafted in durable fabric to give you a luxurious feel. Discover a range of exquisite wedding gowns that gives you a gorgeous bridal look, allowing your personality to shine on your big day. Garnished with exclusive designs, our wedding gowns and evening gowns come in a full range of sizes to cater to every single bride. Moreover, our team will work closely with you to bring your vision to life and help you hunt for the right wedding gown.
 From elegant to flirty, explore a well-curated gamut of Bridesmaid Dresses at Sadia Sanusi. We offer an appealing variety of affordable bridesmaid dresses that complement the wedding gown while allowing bridesmaids to reflect their style and make a fashionable statement. Our array of dazzling and body-inclusive bridesmaid gowns is designed to accentuate every woman's silhouette and elevate the glamor quotient to steal everyone's attention.
 Saadia Sanusi brings to you an exclusive stock of authentic Traditional Kente that features colorful, geometrically patterned fabric, exuding the rich African culture. This style of garment is reflective of the high-class society in Ghana. Get your hands on our impressive collections that add a flair of elegance to your look effortlessly, making you feel like a princess on the wedding occasion.
 At Saadia Sanusi designs, we guarantee high-level craftsmanship that will leave everybody in awe. Pick your favorite garment right away at the best price, as you deserve to look and feel your best without breaking your budget. Find lovely dresses festooned with eye-catching designs and crafted in soft flowing fabrics that assemble incredible movement to epitomize your fairy tale dream wedding.